Last month, Sole Society was having a great sale on boots. I indulged and bought two pairs for a great price. They are even cheaper now…can I get a price adjustment?  If you aren't familiar with Sole Society, their return policy isn't that great. You can't return shoes if they were purchased on sale. I knew the risks and decided to purchase them anyway. I figured if they didn't fit, I would take them to the shoe cobbler and get them stretched.
Of course when they arrived, they didn't fit around my athletic calves. I couldn't even zip them up. I was totally bummed because I really liked both pairs of boots. Sole Society makes some nice quality shoes. The leather on both shoes were beautiful. But now I was stuck with two pairs of boots that didn't fit. I had every intention on taking them to a shoe repair shop but I didn't have one in mind. I had a shoe cobbler that I used for minor things but this was a big project and frankly, I didn't trust them to do a good job. I didn't want to pay money for them to mess up my boots.
A Google search lead me to Cesar's Shoe Repair (also known as Chelsea Cobbler). Their website wasn't that great but they did have a section on boot alterations. I called them for reassurance and the person who answered the phone seemed to know what he was talking about. I ended up taking my boots down to Chelsea Cobbler to get them stretched…so I thought.
The shoe cobbler had me try on both pairs and took my measurements. I took them in a week before I was leaving NYC and I was promised they would be done within a week. A week went by and no one  called to let me know that they were ready. I was in the neighborhood and did a drop by but they weren't ready. The shoe cobbler came out with my shoes and explained all the work he had to do on my boots. I was in a time crunch because I was moving in two days. He promised me that they would be done by the agreed upon time.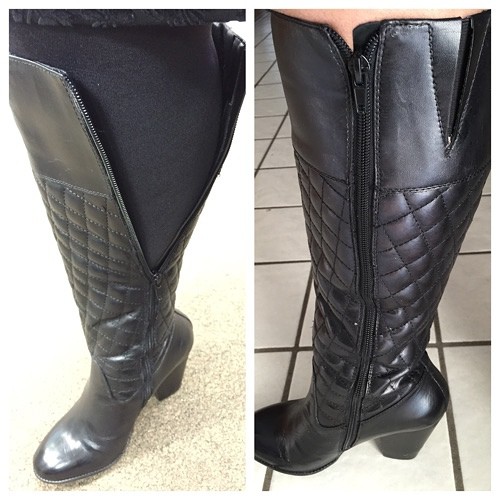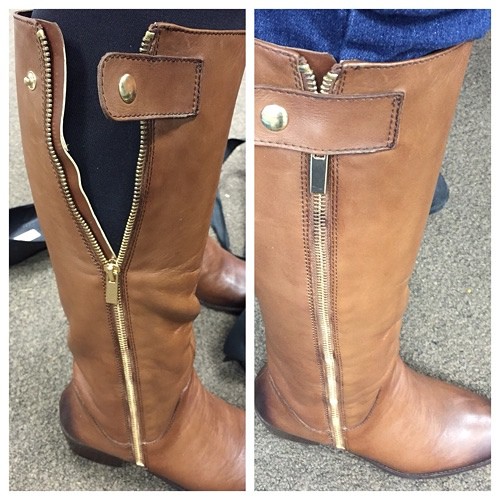 Two days later I came back to my boots totally re-made. I was completely impressed. The craftsmanship was impeccable and the fit was wonderful. It was totally worth the extra few days I had to to wait. You can't rush perfection. Dude had to literally remake my boots. He added back leather panel on my riding boots and put in extra elastic on both that allowed for stretching. Both boots look like they were designed that way, not that I had work done on them.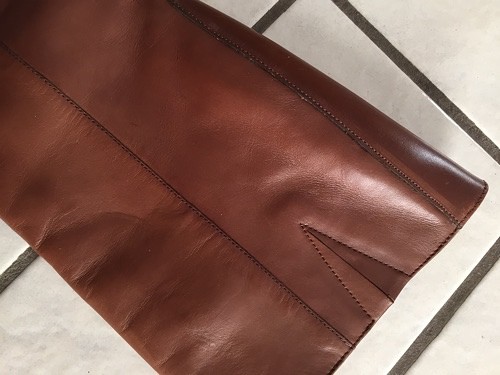 I'm so sad that I didn't find him until a week prior to moving from NYC. But I do plan to come back to the city to get my hair cut every few months (hopefully). He said that I could bring in my boots for repairs and they will mail them to me. Talk about excellent customer service. He was the bomb.com.
I would like to add that I tweeted my boot alterations and tagged Sole Society since that is where I purchased my boots. Sole Society was kind enough to email me a return label for my boots even though there was a no return policy. Talk about excellent customer service as well. I kindly tweeted them back.
@TheLimerickLane Sorry to hear this! Please contact our SOS Team for some help with this!

— Sole Society (@solesociety) December 12, 2014
@TheLimerickLane You're welcome! We definitely are here to help!

— Sole Society (@solesociety) December 12, 2014